About ILM
ILM is the largest specialist development and professional body in Europe, they are dedicated to supporting the development of manager and leaders around the world. The process of becoming an ILM centre is a rigorous one, and achievement of centre status is for us something of a badge of honour. Been accredited to deliver ILM qualifications demonstrates the validity of our training and is part of our commitment to deliver high-quality meaningful learning opportunities to our clients. For clients achievement of an ILM qualification gives them a nationally recognisable qualification which they can use to demonstrate their ability as a coach or mentor to prospective employers or clients. It lets people know clearly that their ability to practice as a coach or mentor has been assessed and has met an agreed and national standard of expected performance; it provides our clients and ourselves as their training provider with a level credibility.
Programmes of learning will involve:
Attendance at core training modules
Group supervision & tutor support
1:2:1 tutor support
Self directed learning – such as reading or additional research
Undertaking a period of 1:2:1 coaching practice
Keeping record of coaching activities
Keeping a reflective learning journal
Completion of core assignments
We are approved to deliver the following qualifications:
Level 3 in Effective
Coaching
For managers or those with an organisational coaching role.
Be an effective coach in your workplace.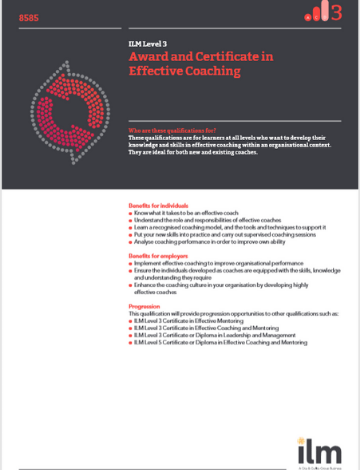 Level 3 in Effective
Mentoring
For managers or those with an organisational mentoring role.
Mentoring as a powerful development tool.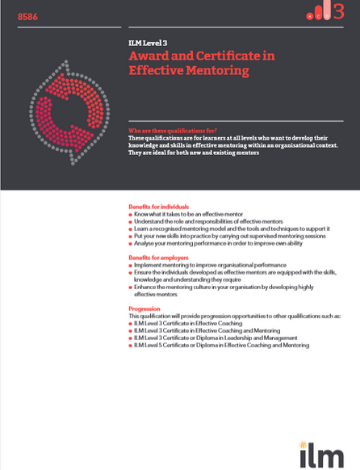 Level 5 Coaching & Mentoring
For managers with a significant responsibility for coaching & mentoring.
Deepen your understanding.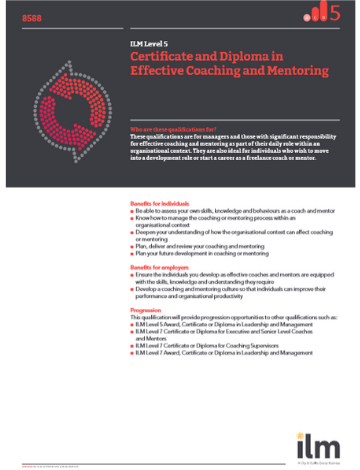 Our York Based Public Programmes
We run the ILM Level 5 in Effective Coaching & Mentoring Course as an open programme in York annually. This is open to anyone who meets the entry requirements for study, and provides the opportunity to work alongside a group of other professionals with different experiences and background.